We can't wait to meet you!
Harford Community College invites you to visit our campus, learn about our programs, and meet our students and faculty. Events are scheduled throughout the year so we encourage you to check back often for new dates and times.
Visiting the Harford Community College campus is the best way to see what it's like to be a Harford student. Many tell us they are surprised at how beautiful and welcoming our campus is and how impressed they are once they see our facilities and all we have to offer.
So, are you ready to visit Harford? You have several opportunities, so take a look below and feel free to join us for one, two, or all! We look forward to seeing you soon.
Each spring, Harford hosts Exploration Days designed to give prospective students a day on campus to learn about programs available in their interest area. It's an opportunity to dig deeper into the program that YOU want to study. You'll learn about careers, sit in on classes, meet students and faculty, and experience firsthand what it's like to be a student at Harford.
Talk to your school counselor for more information.
SPRING 2022 DATES
MAR 11: Arts & Humanities
This session focuses on Digital Arts, Fine Art, Graphic Design, Photography, Mass Communications, Music, Arts Management degree programs, as well as degree programs in Communication Studies, Philosophy, English, and History.
MAR 16: Business & Applied Technology
This session will focus on Accounting, Additive Manufacturing, Business Administration, Business Management, Computer Aided Design and Drafting (CADD), Computer Information Systems, Cyber Defense, Engineering Technology, Entrepreneurship, Health Information Technology, Human Resources, and Information Assurance and Cybersecurity.
MAR 23: Teacher Education
This session will focus on Early Childhood Education, Elementary Education, Special Education, and Secondary Education.
APR 6: Career & Workforce
This session is for those who are interested in noncredit certificate, certification and apprenticeship programs that prepare you for careers in Allied Health, Construction & Trades, IT/Computers/Cybersecurity, Warehousing, Supply Chain, Logistics, and Service Professions.
APR 8: STEM
This session will focus on Biology, Biotechnology, Data Science, Engineering, Environmental Science, Chemistry, and Mathematics.

APR 8: Exercise Science
Come dressed ready to get up and get moving. This session is for those interested in careers in fitness, personal training, kinesiology, and physical therapy.
Missed A Session?
Don't worry, Harford's Admissions Team is always available to answer questions and help you get started. Contact Admissions at 443.412.2109 | admissions@harford.edu.
JUN 1 | 5:30 PM
JUN 28 | CANCELLED

This new event gives you a chance to get personal with Harford. Small groups will be guided on a walking tour through campus where they will get to see inside classrooms, academic buildings, and the Student Center. There will be five stops along the way where you will have 15 minutes to learn about specific areas of the College: Admissions, Student Life & Athletics, The Library & Learning Center, Financial Aid, and our Student Support Services. There will be plenty of time for conversation, questions, and interaction.

We hope to see you at this exciting new event!
Each fall, high school seniors are invited to join our admissions team to learn more about Harford's programs and services. The sessions are held in each high school and are designed for those who are considering attending Harford after graduation.
Reach out to your school counseling office for exact dates and times.
Spring 2022: May 4 | 6 PM APGFCU Arena
Fall 2022: To Be Determined.
Visit us at OPEN HOUSE and see why Harford is a good fit for you!
Fall and Spring Open Houses are our two biggest events of the year. They highlight our 90+ exceptional degree and workforce programs as well as many of the extracurricular activities and services offered at Harford. You'll learn how to save money by applying for our many scholarships and grants, be introduced to life on campus (including clubs, activities, and athletics), explore campus, and meet with our Admissions team to discuss your future as a Fighting Owl!
» Learn about opportunities for research, internships, and networking.
» Talk to deans, faculty and current students about programs, services, and campus life.
» Take a campus tour and see firsthand how our facilities rival some of the best four-year universities.
» Hear about the safety precautions and protocols that have been implemented since returning to campus.


TUESDAYS | 3:30–4 PM
DEC 14 | JAN 18 | FEB 15 | MAR 15 | APR 19 | MAY 17 | JUN 21
Join an admissions staff member to learn more about Harford in a Mini Information Session. Attendees will hear about our programs, support services, and application process. This session is great for students who want a general introduction to Harford's programs and services. Mini Information Sessions are held monthly on campus.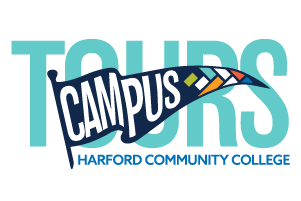 Tours are offered by appointment on Mondays and Wednesdays and can be scheduled by filling out the form below.
Join Us for a Virtual Campus Tour