Arts and Culture
Interested in visual and performing arts? Look no further!
Each year Harford Community College hosts national touring acts, exhibits, local jazz, classical, and ballet performances, and more. In addition, the College is home to the Phoenix Festival Theater and Harford Dance Theatre. Our diverse programs offer the community cultural and artistic opportunities typically available only in more urban areas.
LIVE! At Harford Community College is the umbrella for all of our arts and cultural offerings.
Each year LIVE! schedules events and performances by nationally-known artists as well as shows and exhibitions by local and regional artists, students, and faculty members. Students are often eligible for free or reduced admission with their H-ID. Click the image below to view the LIVE! Catalog (also available as a PDF).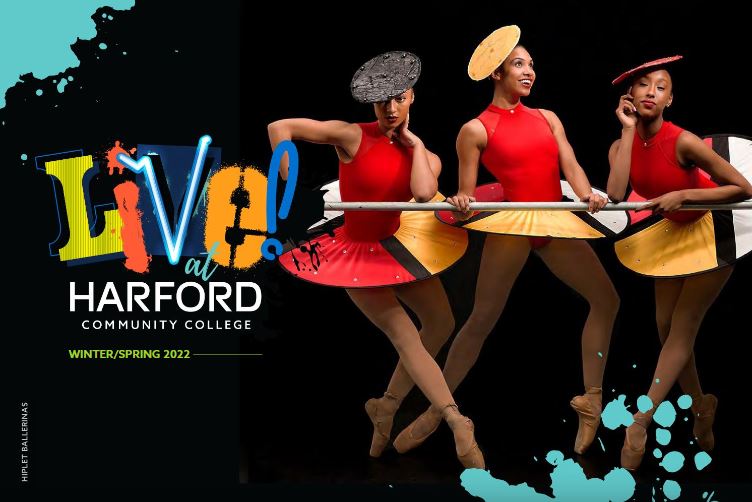 Hays Heighe House
The Hays-Heighe House is a historic home located on the campus of Harford Community College. Built in 1808, its initial owner, Thomas A. Hays, was one of the founders of the town of Bel Air. Rich in historic significance, the house is used for exhibits, private events, and lectures. The Hays-Heighe House was listed on the National Register of Historic Places in 1972.
Phoenix Festival Theater
Phoenix Festival Theater is Harford's resident community theater organization. Is staffed by local professionals and theater enthusiasts and they present four productions each season. Its focus is to provide a stage for local talent to express their love of theater and to contribute to the promotion, education, and support of the arts in Harford County. Auditions are open to the public.
Harford Dance Theatre
Harford Dance Theatre is a thriving, semi-professional dance company and the resident community dance company at Harford Community College. We present four dance productions annually with the goal of providing a supportive, professional, creative environment for dancers of all ages and abilities. Auditions are open to the public.
For more than 20 years we have presented annual favorites such as Harriet's Happiest Halloween and The Nutcracker, along with new productions that draw old and new patrons alike.
Chesapeake Gallery
The Chesapeake Gallery features contemporary art by emerging and established artists as well as HCC faculty and students. Located in the Student Center, the Gallery is the only exhibition space of its kind between Baltimore and Newark. It serves as a vital educational link between the community and the practice of art and design in the region.
Auditions for upcoming Phoenix Festival Theater and Harford Dance Theatre productions are open to community members.
BE THE FIRST TO KNOW!
Sign up for our mail and email list for show announcements, updates, calendar of events, special offers and more.
---
Special Events and Performances are made possible in part through funding from: