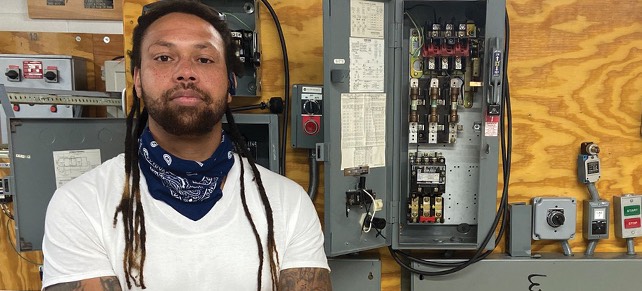 Construction & Trades
The hands-on training provided in the Construction and Trades programs allows students to quickly get up to speed in a career-focused field, without the need for a degree. Many of the programs allow students to earn certificates that are recognized and in-demand by local and regional business. Assistance with job placement upon completion is available and local business often hire from our programs. Classes may be held on the main campus of Harford Community College, at Harford Technical High School, at Harford's Leading Edge Training Center Powered by the Ratcliffe Foundation (located in Edgewood, MD), or at Earlbeck Gases & Technologies on Rte. 40 in Baltimore.
Programs of study in Construction & Trades
Certificates | Licensures | Certifications
Online ed2go Classes and Career Training

Gain new personal and professional skills with two ways to learn through our ed2go partner. In our instructor-led courses, you study and interact with a cohort over a six-week schedule. Courses start monthly with twice-weekly lesson plans. For the independent learner, our self-paced career training courses provide access to all lessons immediately with up to twelve months to complete. Hundreds of classes are available.


---
Harford's Leading Edge Training Center

Powered by the Ratcliffe Foundation
Bringing workforce training to Edgewood, Harford's new facility at the Boys & Girls Clubs of Harford & Cecil Counties is home to workforce programs in construction/trades, manufacturing, distribution/warehousing/logistics, and entrepreneurship. Students get hands-on experience using state-of-the-art simulators and can network with local employers to secure interviews. Phillip E. & Carole R. Ratcliffe Foundation Scholarships are available for many of these programs.
Offered in Fall 2021
Intro to Construction
MON | NOV 1 & 8 | 5–7:30 PM
This FREE, two-session class introduces students to opportunities and career options in construction, carpentry, plumbing, and heavy equipment operations. Career, resume and interview prep, along with workplace safety, are also covered.
Heavy Equipment Operations Certificate:
NOV 2–Spring 2022 | TUE & THU evenings
This four-course certificate program uses advanced simulators to train students to drive, maneuver, and control heavy machinery used to construct roads, bridges, and buildings. Students also learn to read construction stakes, calculate cut and fill for grading, and how to control surface and ground water on a job site.
• Introduction to Heavy Equipment Operations
• Heavy Equipment Operations-Site Work and Grading
• Heavy Equipment Operations-Enhanced Site Work & Soils
• Excavation Math & Interpreting Civil Drawings
Harford uses the National Center for Construction Education and Research (NCCER) curriculum on Heavy Equipment Operations.
Warehousing, Supply Chain, and Logistics Certificate:
NOV 2–Spring 2022 | TUE & THU evenings

This five-course certificate program provides new and experienced supply chain professionals with an opportunity to enhance their skills and start or advance their careers. Each course consists of 30–45 hours that include lecture, breakout sessions, facility tours, workshops, supporting videos, attendee participation, real work experiences, case study simulation and follow-up homework assignments.
• Fundamentals of Supply Chain Logistics
• Warehousing and Distribution Center Solutions
• Managing Inventory Assets
• The Role of Information Systems in SCM
• Supply Chain Operations Best Practices