Alumni Recognition
Distinguished Alumni
The Distinguished Alumni Award honors the achievements of former Harford students. Each year we recognize an alum who exhibits outstanding success and distinction in their chosen field/profession, a commitment to their community, charitable outreach, and a continued interest in and service to Harford Community College.
2022 Distinguished Alumni Award nomination deadline: February 28, 2022.
Click here to view the application.
2021 Recipients: Charles & Richard Bauer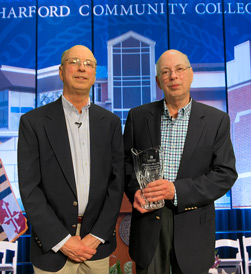 After graduating from Harford in 1975, the identical twin brothers continued their studies at the University of Maryland and earned degrees in horticulture, agronomy, and business. They opened Flowers by Bauers in Jarrettsville, Maryland, and for more than 40 years, they have operated both a retail store and a very prosperous greenhouse and wholesale operation.
Generous supporters of Harford Community College, the Bauers annually donate nearly 1,000 roses to the Harford Community College Alumni and Friends Scholarship Association for sale at Commencement.
Past Recipients
2019: Kristy Breslin Klevinsky
2018: David & Diane Dixon
2017: Charles H. Jacobs, Jr.
2016: Ann B. Ramsay
2015: Chuck Boyle
2014: Dr. Patricia Thompson
Athletic Hall of Fame
Harford Community College has a long history of strong, award winning athletic programs. The Athletic Hall of Fame is an ideal way to recognize the athletic and personal achievements of our alumni, coaches and faculty while inspiring current and future athletes as they pursue their dreams.
Past Inductees
Class of 2019: Joe Harbach and Kate Tiburzi Bohlen
Class of 2018: Michael Bishop and Lisa Still
Class of 2017: Lester Lee and Tom Smith
Class of 2016: LaShuna Cooper, J. Michael Hopkins, Kristin Jasper Blizzard, and Roger Torres
Class of 2015: 1995 Women's Field Hockey Team and William Capallo
Class of 2014: Dick Fordyce, Judy Davlin, John Haggerty, Jack Nichols